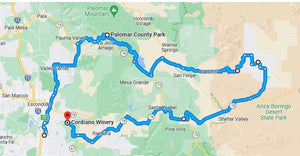 Regular price
2023 Doug Magnon San Diego Driving Weekend
---
Doug Magnon weekend will be in San Diego!
SIGN-UP NOW!
November 3rd and 4th
Host Hotel will be the RB Inn Hotel and SPA


Ciao Everyone,
Please sign-up as soon as possible, there are very few places to stop in Borego Springs, okay one place to stop for lunch, and they are already asking for head counts.


FRIDAY, November 3rd
This will be drive 1.   The route is from Road & Track's top 10 drives in America.  We will leave in the morning drive up to the top of Palomar Mountain and then back down Montezuma Valley room into Borego Springs.

We'll have lunch in Borego and then drive up into Julian the home of Julian Pies. We will find our way out of Julian and over into Ramona wine country with a stop at Cordiano winery.  Friday night will be a dinner in Rancho Bernardo so close to the hotel.



Saturday, November 4th
This will be drive 2.   The route is from the host hotel in Rancho Bernardo through Elfin Forest (Yes there is a forest in San Diego County) eventually ending up in Rancho Sante Fe for a lunch stop. In the afternoon we'll stop at a private Maserati connection and meet some of San Diego's best known restoration experts. More on the special events in the next few weeks!

We'll have a celebration dinner back in Rancho Bernardo Saturday night.

Hotel:
The host hotel will be the Rancho Bernardo Inn. The RB Inn is famous for one of the best SPA's in San Diego.  There are a number of excellent restaurants in the hotel as well.  Come down to San Diego early and enjoy the SPA!

We did not reserve a block so please make your hotel reservations today!  Use your favorite online service or call them directly using this link.  I've been told there is an "Endless Summer" rate that might the least expensive.


Ciao,
See you there!
Philip & Barbara